Samson and Delilah 1949
by Cecil B. DeMille
The Ten Commandments
by Cecil B. DeMille
Jesus of Nazareth is a 1977 British-Italian television miniseries directed by Franco Zeffirelli
Current Volunteer Sign-up Sheets
No sheets currently available at this time.
Semiannual Council Audit Due 2/15
David spoke to Saul: "Let your majesty not lose courage. I am at your service to go and fight this Philistine." But Saul answered David, "You cannot go up against this Philistine and fight with him, for you are only a youth, while he has been a warrior from his youth." David continued: "The LORD, who delivered me from the claws of the lion and the bear, will also keep me safe from the clutches of this Philistine." Saul answered David, "Go! the LORD will be with you." Then, staff in hand, David selected five smooth stones from the wadi […]

Blessed be the LORD, my rock, who trains my hands for battle, my fingers for war. My mercy and my fortress, my stronghold, my deliverer, my shield, in whom I trust, who subdues my people under me. O God, I will sing a new song to you; with a ten stringed lyre I will chant your praise, You who give victory to kings, and deliver David, your servant from the evil sword.

Jesus entered the synagogue. There was a man there who had a withered hand. They watched him closely to see if he would cure him on the sabbath so that they might accuse him. He said to the man with the withered hand, "Come up here before us." Then he said to them, "Is it lawful to do good on the sabbath rather than to do evil, to save life rather than to destroy it?" But they remained silent. Looking around at them with anger and grieved at their hardness of heart, he said to the man, "Stretch out your […]

It was decreed for all of us without exception not to do any work and to rest without activity on the sabbath day. So how could our Lord break the sabbath? (…) Truly, great are God's works: he holds the heavens in his hand, supplies the sun and other stars with light, gives growth to the plants of the earth, maintains humankind in life. Yes, everything exists and holds firm in heaven and on earth by the will of God the Father; everything comes from God and everything exists through the Son. He, indeed, is the head and principle of […]
"Lenny was a 4th degree knight from the Rutland area who resided at Allen Homes in SB. Jeff Lindemenn, Parick Leduc and I had the privilege of driving Lenny to mass at SJV over the past several years. Lenny was known as the "pie man" who baked pies as a hobby to keep active. He always had a smile and a joke to anyone who would listen. He did attend one of our meetings several years ago. The priests serving SJV knew him very well as did several of our members. He became a 4th degree knight more than 50 years ago. He was 107 years old and the oldest WWII veteran in Vermont. He died on Christmas day."
-Ray Michaud
read more
Knights Gear
Knights Gear is the official provider of Knights of Columbus branded materials including clothing, books and apparel of all types. Knights Gear is openly accessible for members to register and order items for themselves, their council, or their brother knights. Please note that the USA Knights Gear site distributes items within the United States only and Canadian Knights Gear site distributes items within Canada only.
4th Degree Uniforms
Members of the Fourth Degree can purchase new uniforms and replacement pieces through Knights of Columbus Uniforms. When ordering, be certain to visit the correct version of this site depending on the country in which you reside (the United States or Canada).
The English Company
Thank you for supporting a family owned business operated by Brother Knights for 3 generations! Due to the Covid-19 pandemic, we are taking all of the necessary precautions to keep our staff safe and healthy, but please be assured that we are still processing and shipping orders in a timely manner. You can email us at sales@kofcsupplies.com with questions/concerns or to check on order. Thank you!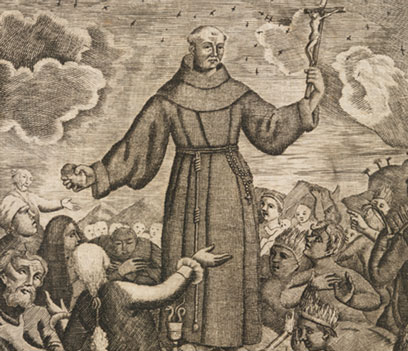 One year before he beatified Fray Junípero Serra in 1988, St. John Paul II made a pilgrimage to the grave of the Franciscan priest at Mission San Carlos Borroméo in Carmel, California.  
This Easy Goulash Recipe is full of flavor and the perfect way to feed a crowd! A simple skillet dinner with tomatoes, beef, and macaroni noodles in a zesty tomato sauce creates the perfect comfort food on a budget!

Garlic Roast Chicken is so juicy and tender! Stuffed with fresh thyme and onion then brushed with a garlic-butter sauce, this chicken is baked until golden-crispy perfection!

Thumbprint Cookies are a delicious, buttery cookie rolled in nuts and filled with jam or jelly. These holiday cookies are a favorite for the whole family!
Saint John Vianney
Parish Bulletins 
Saint Catherine Of Siena
Parish Bulletins 
Saint Jude 
Parish Bulletins 
Our Lady of Mount Carmel
Parish Bulletins 
Local Council News
The Latest News & Updates
"Lenny was a 4th degree knight from the Rutland area who resided at Allen Homes in SB. Jeff Lindemenn, Parick Leduc and I had the privilege of driving Lenny to mass at SJV over the past several years. Lenny was known as the "pie man" who baked pies as a hobby to keep active. He always had a smile and a joke to anyone who would listen. He did attend one of our meetings several years ago. The priests serving SJV knew him very well as did several of our members. He became a 4th degree knight more than 50 years ago. He was 107 years old and the oldest WWII veteran in Vermont. He died on Christmas day."
-Ray Michaud
read more