Current Volunteer Sign-up Sheets
No sheets currently available at this time.
St George Cemetery Saint George, Chittenden County, Vermont, USA
Saint George Cematary, Saint George, VT
Saint John Vianney Church
160 Hinesburg Road, South Burlington, VT
Join your fellow Knights in adoration of the blessed sacrament on First Fridays in satisfaction of the Faith Holy Hour at Saint John Vianney Church. We will lead the congregation […]
Knight of the Year Family of the Year
Knights Gear
Knights Gear is the official provider of Knights of Columbus branded materials including clothing, books and apparel of all types. Knights Gear is openly accessible for members to register and order items for themselves, their council, or their brother knights. Please note that the USA Knights Gear site distributes items within the United States only and Canadian Knights Gear site distributes items within Canada only.
4th Degree Uniforms
Members of the Fourth Degree can purchase new uniforms and replacement pieces through Knights of Columbus Uniforms. When ordering, be certain to visit the correct version of this site depending on the country in which you reside (the United States or Canada).
The English Company
Thank you for supporting a family owned business operated by Brother Knights for 3 generations! Due to the Covid-19 pandemic, we are taking all of the necessary precautions to keep our staff safe and healthy, but please be assured that we are still processing and shipping orders in a timely manner. You can email us at sales@kofcsupplies.com with questions/concerns or to check on order. Thank you!
Resource Links
Catholic Bible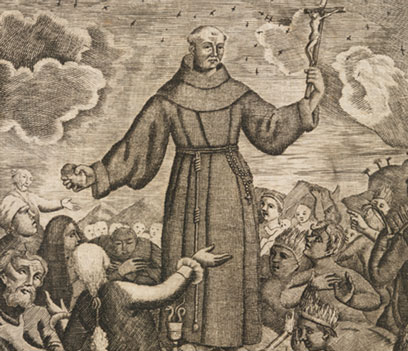 One year before he beatified Fray Junípero Serra in 1988, St. John Paul II made a pilgrimage to the grave of the Franciscan priest at Mission San Carlos Borroméo in Carmel, California.  
These oven-baked ribs are melt-in-your-mouth tender and so flavorful, they come out perfect every time. Serve with baked beans and corn on the cob for the ultimate summer meal!

Boiled corn on the cob turns out perfect every time. Just brush with butter, season and serve. It's the perfect side for any summer meal!

This crockpot BBQ chicken recipe is quick and easy to prepare! Just toss all ingredients in the crockpot and let cook all day! When finished, shred chicken and serve on buns with coleslaw for an easy weeknight dinner!
David Giuliani
.
     .
.
.
.Your local, Vermont Knight's Insurance Representative!
He is always ready to serve you!
 Consider Joining Our Louis J. Trono 2106 Assembly!
Become a 4th Degree Sir Knight
Become a 4th Degree Sir Knight
Saint John Vianney
Parish Bulletins 
Saint Catherine Of Siena
Parish Bulletins 
Saint Jude 
Parish Bulletins 
Our Lady of Mount Carmel
Parish Bulletins 
Local Council News
The Latest News & Updates
Test, Applicant Name: Rick Gravelin, Applicanr Email: rickgravelin@gmail.com, Excerpt: , Featured Image:
read more

Please pray for the following people who are ill or in distress and their families; Robert (Bob) Gravelin, Keith Marston, Gary Howe and Family, Family of the late Paul Pouliot, Christopher Haley (homeless veteran), Parker Yvonne Lyon (Granddaughter of Tom Gravelin)...
read more