Current Volunteer Sign-up Sheets
No sheets currently available at this time.
Thus says the LORD of hosts: There shall yet come peoples, the inhabitants of many cities; and the inhabitants of one city shall approach those of another, and say, "Come! let us go to implore the favor of the LORD"; and, "I too will go to seek the LORD." Many peoples and strong nations shall come to seek the LORD of hosts in Jerusalem and to implore the favor of the LORD. Thus says the LORD of hosts: In those days ten men of every nationality, speaking different tongues, shall take hold, yes, take hold of every Jew by the […]

His foundation upon the holy mountains, the LORD loves: the gates of Zion, more than any dwelling of Jacob. Glorious things are said of you, O city of God! I tell of Egypt and Babylon among those who know the LORD; of Philistia, Tyre, Ethiopia: "This man was born there." and of Zion they shall say: "One and all were born in her; and he who has established her is the Most High LORD." They shall note, when the peoples are enrolled: "This man was born there." And all shall sing, in their festive dance: "My home is within you."

When the days for Jesus to be taken up were fulfilled, he resolutely determined to journey to Jerusalem, and he sent messengers ahead of him. On the way they entered a Samaritan village to prepare for his reception there, but they would not welcome him because the destination of his journey was Jerusalem. When the disciples James and John saw this they asked, "Lord, do you want us to call down fire from heaven to consume them?" Jesus turned and rebuked them, and they journeyed to another village.

Christ is "the way and the door" (Jn 14,6; 10,7); Christ is the ladder and the vehicle (…), "the mystery hidden from eternity" (Mt 13:35). Whoever turns his face fully to the Mercy Seat and with faith, hope and love, devotion, admiration, exultation, appreciation, praise and joy beholds him hanging on the cross: such a one makes the Pasch, that is, the Passover, with Christ (cf. Mk 14:14). By the staff of the cross he passes over the Red Sea (cf. Ex 14:16) (…). In this passing over, if it is to be perfect, all intellectual activities must be left […]
Latest Past Events
Chittenden County Right To Life Diner
PO Box 9214, South Burlington
This event is from 3:30pm to 10:00pm on September 26, 2021.
Delta Hotels By Marriott, Burlington
1117 Williston Road, South Burlington
Honoring Rev. Timothy Naples
St John Vianney Church
160 Hinesburg Road, South Burlington
Join your fellow Knights in adoration of the blessed sacrament on First Fridays in satisfaction of the Faith Holy Hour at Saint John Vianney Church. We will lead the congregation […]
Knight of the Year Family of the Year
Knights Gear
Knights Gear is the official provider of Knights of Columbus branded materials including clothing, books and apparel of all types. Knights Gear is openly accessible for members to register and order items for themselves, their council, or their brother knights. Please note that the USA Knights Gear site distributes items within the United States only and Canadian Knights Gear site distributes items within Canada only.
4th Degree Uniforms
Members of the Fourth Degree can purchase new uniforms and replacement pieces through Knights of Columbus Uniforms. When ordering, be certain to visit the correct version of this site depending on the country in which you reside (the United States or Canada).
The English Company
Thank you for supporting a family owned business operated by Brother Knights for 3 generations! Due to the Covid-19 pandemic, we are taking all of the necessary precautions to keep our staff safe and healthy, but please be assured that we are still processing and shipping orders in a timely manner. You can email us at sales@kofcsupplies.com with questions/concerns or to check on order. Thank you!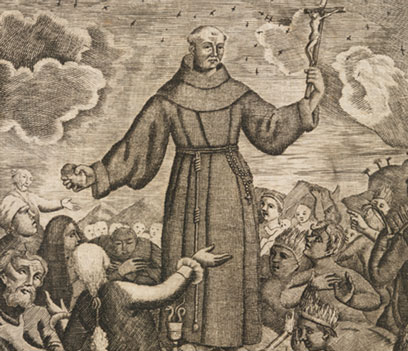 One year before he beatified Fray Junípero Serra in 1988, St. John Paul II made a pilgrimage to the grave of the Franciscan priest at Mission San Carlos Borroméo in Carmel, California.  
Baked chicken & wild rice casserole is so creamy and cheesy with easy clean-up. Serve with a side of roasted veggies or a fresh crisp salad to impress a crowd!

Chicken breasts are breaded & baked until golden & crispy! This recipe is super simple to follow with only a few easy steps, and result in perfectly tender & juicy chicken every time.

Lobster mac and cheese is a rich and creamy gourmet entrèe that's super easy to make in your own kitchen. Impress guests with this easy & cheesy casserole, loaded with pieces of tender lobster!
David Giuliani
.
     .
.
.
.Your local, Vermont Knight's Insurance Representative!
He is always ready to serve you!
 Consider Joining Our Louis J Trono 2106 Assembly!
Become a 4th Degree Sir Knight
Become a 4th Degree Sir Knight
Saint John Vianney
Parish Bulletins 
Saint Catherine Of Siena
Parish Bulletins 
Saint Jude 
Parish Bulletins 
Our Lady of Mount Carmel
Parish Bulletins 
Local Council News
The Latest News & Updates

Please Pray for the following: Joe Myers and Family, Jeffrey Claude Danis and family Tom Westropp, Andrew Bolognani, PSD/PGK Don Sutton, Ray & Bev Newman, PGK Ray Miller, Stuart Fath, Dan Smith, David Bullock, Repose of the soul of Fr. Hamilton Repose of the soul...
read more